Pheasant Hunts in South Dakota
---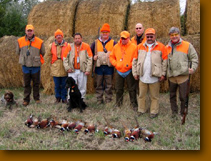 Experienced Guide and Dogs
Our knowledgeable guide Loris, and his companions Elmo & Ann, take you through pheasant hunts in a variety of habitats, including milo, millet, corn, native grasses, shelter belts, switch grasses, cane, creeks, draws, and more. With over 14 years experience in hunting, Loris knows where the birds are depending on weather, time of day and season.
Your Hunt, Your Way
Century Farm Hunts
has provided the ideal getaway for hunters for a number of years. Countless hunters have visited our grounds and enjoyed a pheasant hunting experience unlike any other. Be sure to bring along your cherished hunting assistant, as we have heated indoor/outdoor dog kennels readily available for the guides. Additionally, we provide luxurious lodging for our hunters, as well as tasty meals. Why are we such a fantastic price? We believe in offering great service and a great hunt at great rates therefore alcohol is not part of our package, or available for purchase, but you are welcome to bring your favorite beverage to enjoy after your days hunt.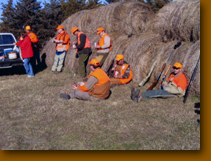 We have a
3 (kill a) day limit
, and each of your trophies will be cleaned, processed and packaged for you to bring home.
(Delbert has been processing game birds for over 17 years and guarantees you clean birds)
We welcome hunting groups, and provide guides and guide dogs to lead you on your unforgettable expedition with our available
three and four day hunts
. Customer satisfaction is always our number one goal. We will work diligently to provide you everything needed for you to have a successful and rewarding experience.
Please
contact us
to book your trip, pricing options, or to ask any general or specific questions that you may have.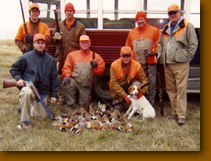 Your hunt package price includes:
Hunting on prime private land
Comfortable and clean lodging
Three great meals each day
Ammunition
Clean heated kennels for your dogs
Vehicles for transportation in the field
Experienced guide and his dogs
Professional bird cleaning and processing
Does not include guide and staff gratuities
$520.00 + tax per day per hunter
$500.00 deposit per hunter
Price does not include sales tax or gratuities